Fur beetles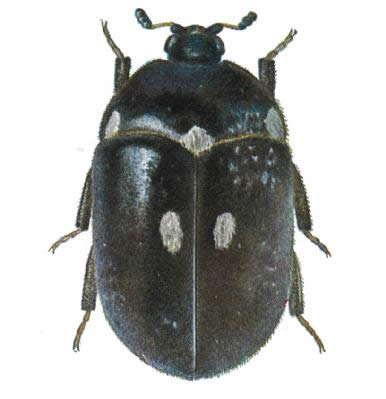 Beetles are above all textile pests. Their larvae, such as the fur beetle larvae, gnaw away indoors, mainly on woolen clothing, carpets and furs, eating textile dust and dead insects.
Beetles that destroy textiles include the museum beetle (Anthrenus museoum), the mottled beetle (Attegenus pellio), the brown beetle (Attagenus smirnovi), the armadillo beetle (Dermestes lardarius) and the belted beetle (Attegenus woodroffei). The brown beetle is less common in Finland than, for example, the belted beetle, the armoured beetle and the spotted beetle. This page focuses primarily on the fur beetle and its control.
Pest control against Fur beetles – What can you do by yourself?
The general cleanliness and tidiness of clothing, textiles and their storage areas is the easiest and most important way to prevent the spread of the fur beetle. All clothing bought from flea markets or similar places should be thoroughly cleaned and/or washed to prevent the fur beetle or even the larvae of the armyworm beetle from entering the home. In addition, all long-stay textiles, especially woollen products and items upholstered with textiles, should be stored clean and, if possible, in airtight bags.
Trust us, the pest control professionals!
If the above measures don't work and you can't control fur beetles on your own, a pest control professional can help. We will expertly control all crawling insects, taking into account your premises and the specifics of your home. Before eradicating fur beetles, we carry out a comprehensive survey and a professional and individual control plan.
Identi­fication
Two-spotted carpet beetle is about 5 mm long, circular and dark or black coloured beetle. It has, like its name indicates, two white spots in its back.
Fur beetle is also 5 mm long, circular and dark-brown coloured beetle. It has, like its Finnish name indicates, a pattern that resembles a wave (belt) in its back.
The larvae of both species are very similar in appearance, about a centimetre long, with long hairs and a long, tapering tail. But the belted cutworm beetle caterpillar is slightly darker than the yellowish, silvery mottled cutworm beetle caterpillar and is also unpolished.
Pest control of fur beetles
First, the situation is analysed and an individual prevention plan is drawn up for the site. This is followed by an effective and high-quality pesticide treatment.
We use a variety of methods to achieve the best possible results as quickly as possible. We also try to avoid the use of biocides as much as possible.
For more information on the control methods we use, please contact our pest controllers. Contact us!
How to prepare?
If needed (additional information will be provided beforehand)
Clear the sides of your floorboards of loose items – you don't need to move large objects or furniture such as bookshelves, for example. Aquariums and the like should be covered with cloth or blankets. In addition, their filter system must be switched off.
NOTE! Please also make sure that you are either there to let us in or that your house keys have access to your apartment (security lock is open). If you are not present, you should also make sure that your children and pets are away from your home during the treatment. Thank you in advance!
Warning time
If needed (additional information will be provided beforehand)
Please note that after the pesticide treatment has been carried out, you and your pets are not allowed to enter your apartment before two (2) hours has passed by. Pregnant women, kids and people suffering from asthma shall stay away at least five (5) hours.